Pune is one of the beautiful cities in India that is famous as an educational hub, business Centre, a historical site and a spiritual spot. It was once the city of Peshwas who rules Maharashtra state after Chhatraati Shivaji. The city holds its charm in many historical monuments, buildings and of course temples.
Wrapped with lots of spirituality, each temple in Pune has its own prominence and history. If you are planning your next vacation in this city then you should definitely visit all these temples for a spiritual escape. 
Pilgrimage sites in Pune
Dagdusheth Halwai Ganpati Temple
Located in Budhwar Peth, Dagduseth Halwai Gapati Temple is one of the most famous Ganpati temples in the world. Its founder was a sweet seller whose son died of the plague and one of his gurus suggested him to construct a Ganesh Temple.  This sacred place has stunning architecture and daily rituals are performed here. There is an idol of Lord Ganesha that is 7.5 feet long and can be seen even from the outside.  
Address: Ganpati Bhavan, 250, Chhatrapati Shivaji Maharaj Rd, Budhwar Peth, Pune, Maharashtra 411002
Timings: 6:00 AM – 11:00 PM
Bhuleshwar Shiva Temple
It is a Hindu temple dedicated to Lord Shiva having unique architecture and classical carvings on the walls. It is perched upon a hill and was constructed in 13th Century. This spiritual place near Pune has an idol of Lord Ganesha in female attire and is popularly named as Ganeshwari or Lambodari. There are many tourist places near the Bhuleshwar Shiva temple that you can explore while taking a visit to this place.
Address: Bhuleshwar Road, Malshiras, Maharashtra 412104
Timings: 6:00 AM – 9:00 PM
Omkareshwar Temple
It is one of the biggest and ancient temples in Pune that is mostly visited by Maharashtrians. The splendid architecture and huge domes of the temple enhance its beauty. The architecture and carvings on the stones are one of the things that leave everyone spellbound. It has some awesome murals of lord Ganesha, Goddess Durga, Lord Shani, Vishnu, and Hanuman. It opens early in the morning but closes down in the afternoon. 
Address: Ward No 11, 12, Khandwa – Indore Road, Mandhata, Madhya Pradesh 450554
Timings: 5:00 AM – 9:30 PM
ISKCON NVCC Temple
One of the most famous temples in Pune is ISKON Temple that is dedicated to Lord Krishna. This religious site has a multilevel car parking facility and has been visited by many Bollywood stars and high-profile politics. Krishna bhajans and aarti are recited here every evening.  You can donate here for Go-seva, deity dressing, priti bhojan and Gita daan. Here, you will find vegetarian restaurant as well. 
Address: Iskcon Nvcc Road Katraj-Kondwa Bypass, Tilekar Nagar, Kondhwa Budruk, Pune, Maharashtra 411048
Timings: 4:30 AM – 1:00 PM, 4:30 PM – 9:00 PM
Chatushrungi Mata Temple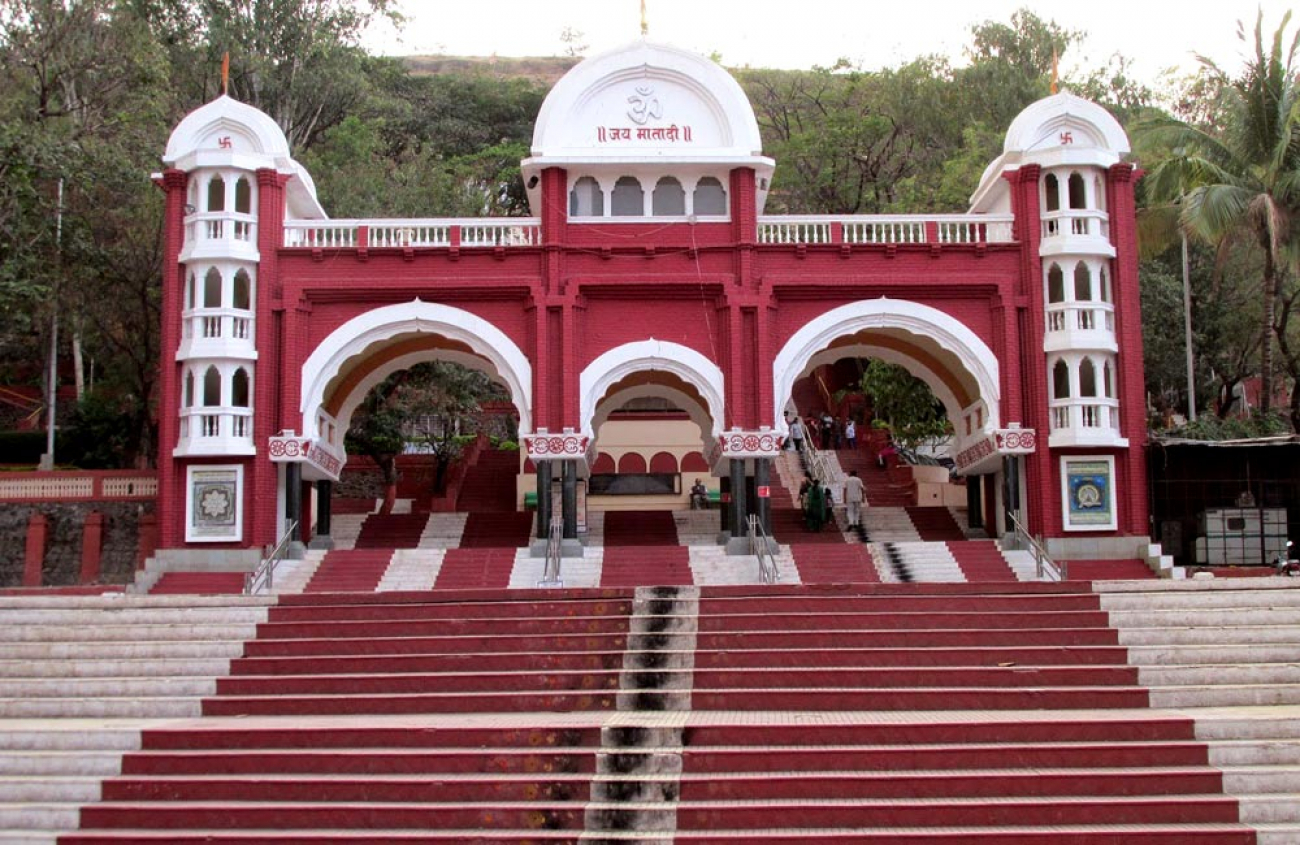 This temple is dedicated to goddess Chatushrungi and considered as one of the famous temples in Pune. Located on a higher area, pilgrims can reach to this shrine after climbing over a hundred steps.  The temple gets crowded during Navratri festival when a big fair takes place. It will offer you a unique spiritual experience that will be unfathomable. 
Address: Senapati Bapat Road, Near, Pune University Rd, Gokhalenagar, Pune, Maharashtra 411016
Timings: 6:00 AM- 9:00 PM
Neelkanteshwar Temple, Pune
Dedicated to Lord Shiva, Neelkanteshwar Temple in Pune is crafted very beautifully and situated 900 metre above sea level. Pilgrims have to take an hour of trek to reach the temple and feel the serenity of the place. The positive aura and peaceful atmosphere attracts the visitors to this site. The outstanding location offers the beautiful sunsets views around the temple. 
Address: Road number 1, Pune 412107, India
Timings: 5:00 AM – 9:00 PM
Balaji Temple
Balaji Temple is a half-day gateway from Pune where you can reach through your own vehicle or cab. Situated on the top of a hill, this spiritual place offers a tranquil view to the eyes. This well-maintained temple is very neat and clean and similar to original Tirupati temple. Pilgrims who cannot travel to Tirutpati, this place is the best alternative for them. 
Address: Ward No. 8, Aundh Gaon, Aundh, Pune, Maharashtra 411027
Timings: 6:00 AM – 8:00 PM
Parvati Hill Temples
Perched on the top of Parvati Hill, this temple enshrines the statue of Goddess Parvati, Lord Vishnu, Lord Ganesha, and Lord Karthikeya. This spiritual place is designed in Maratha style with specialized stone architectural work. Parvati Hill temple serves as a symbol of Peshwa rulers in the region. Pilgrims have to climb 108 steps to reach the temple. It offers an exquisite view of the entire city from the top.  
Address: Parvati PAytha, Pune Maharashtra 411009
Timings: 4:40 AM – 9:00 PM
Laxmi Narasimha Temple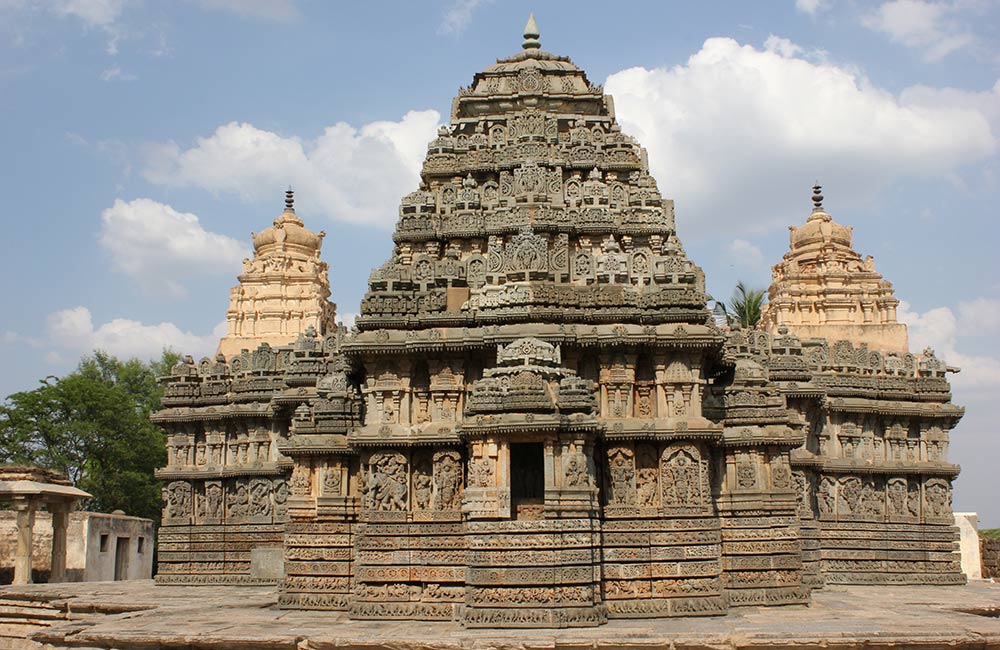 Dedicated to Lord Narasimha, Laxmi Narasimha Temple is one of the most beautiful temples in Pune that is built in the Peshwa architectural style with black stones. To indulge in the glorious celebrations of this festival, visit the shrine during Navrati or Janmashtmi when the temple is decorated with flowers and lights.
Address: Sri Lakshmi Narasimha Swami Devasthanam, Dharmapuri, Karimnagar District, Telangana – 505425
Timings: 6:30 AM – 12:24 PM and 4:30 PM – 8:30 PM
Bhimashankar Temple
Situated in the Sahyadri Hills and enclosed by dense forests, bhimashankar Temple is dedicated to Lord Shiva. It is also the starting point of the Bhima River and has gained much importance since it has been announced as a wildlife sanctuary. The Maha Shiva Ratri is celebrated with great joy in this temple. 
Address: Shivtritha, Shree kshtrea, Bhimashankar, Maharashtra 410509
Timings: 5:00 AM – 9:30 PM
So, if you just love to explore the spiritual places then download the EaseMyTrip App for Booking Flights and reserve your seats for Pune. Get an attractive discount on your first booking and enjoy your spiritual excursion with your loved ones.