Festive season is right around the corner and most of us have already begun our shopping spree. Since, half of us are already spoilt with choices it is only fair to learn to pick the best ones out like wheat from chaff.
So, to help you make the most of every second and penny spent, here we discuss about the best kinds of fabrics for evening gowns that you must invest in.
#1 Velvet
Velvet is ruling the runway this season. And if you want to stun the onlookers, go with straight evening dresses in velvet with darker tones.
What makes velvet the fabric of this season?
It has a strong, gorgeous sheen
It is soft and textured
It is strong and durable and great for winters
It has a shimmering surface
#2 Satin
When you read satin, you immediately remember Audrey Hepburn from Breakfast at Tiffany's. That is the elegance of satin. Almost every satin gown or dress has some sort of vintage vibe to it and that makes satin all the more elegant.
Why we all love satin?
It is highly lustrous
It kind of reflects light
It is glossy at the front and matte at the back
It appears luxurious
It is eye-catchy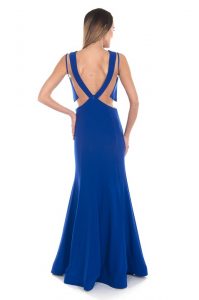 #3 Georgette
A quick question? Who doesn't like georgette? No one, right? Right. This lovely fabric is distinctive, and therefore is one of the most favored choices for blue evening dresses and evening dresses in almost every other color.
Why opt for Georgette?
It flows smoothly
It is strong and holds well on the body
It is built with highly twisted yarns
It is bouncy and feels great
#4 Crepe
Favorite of couturists, crepe is widely known for elegant formal wear. Its tightly woven construction made from twisted fiber helps it hug your body wonderfully and enhance your curves.
What makes crepe special?
It is lightweight
It drapes gracefully
It is flexible and can be stretched two-ways
It has a matte, grainy texture
#5 Chiffon
Almost every woman loves chiffon. The way it feels on the body and how it smoothly goes with the flow. Fine and lightweight, it drapes so beautifully. Chiffon evening dresses have long been a popular choice and that can be attributed to the elegance of chiffon fabric.
Why buy a chiffon evening gown?
It is made of loose and tightly twisted yarn
It is soft and supple
It drapes and gathers wonderfully
Final Words
Three things enhance an evening gown's look. First is the pattern and texture of and/or print on the fabric. Second is the finesse in making. Third is the fabric. In no particular order. Now, through this blog you can easily nail down a great fabric. As far as the other two are concerned, we suggest you look out for inspiration. Pinterest boards are a great way to find which prints are trending. And Instagram is a great way to find which celebrities and top bloggers are rocking what kinds of looks.