Men's winter wardrobe is always a bit more limited than women's when it comes to choosing new outfits. However, there are some men's winter turtleneck outfits you can wear for the upcoming season that will surprise you with their style and warmth. Check out these 10 stylish choices for your next outfit!
Why Wear a Turtleneck?
A turtleneck is a great way to keep warm in the winter. It can also be a very stylish look for men. Here are some tips on how to wear a turtleneck in a stylish way.
1. Choose the right fit. A turtleneck that is too tight will be uncomfortable and may make you look like you're trying too hard. On the other hand, a turtleneck that is too loose will look sloppy. Find a happy medium by choosing a turtleneck that fits snugly around your neck without being constricting.
2. Pair it with the right clothing. A turtleneck looks great with a sport coat or blazer. It can also be worn with a sweater or cardigan. If you're wearing a turtleneck with a sweater, make sure the sweater is not too bulky so it doesn't make you look like you're drowning in clothes.
3. Consider the color and pattern of your turtleneck. A solid-color turtleneck is always classic, but you can also have fun with patterns and colors. Just make sure the rest of your outfit isn't too busy so you don't look like you're wearing a costume.
4. Accessorize wisely. A scarf is always a good idea with a turtleneck, but don't go overboard with other accessories such as jewelry or hats. Less is more when it comes to accessorizing with a turtleneck.
3 Ways to Wear a Turtleneck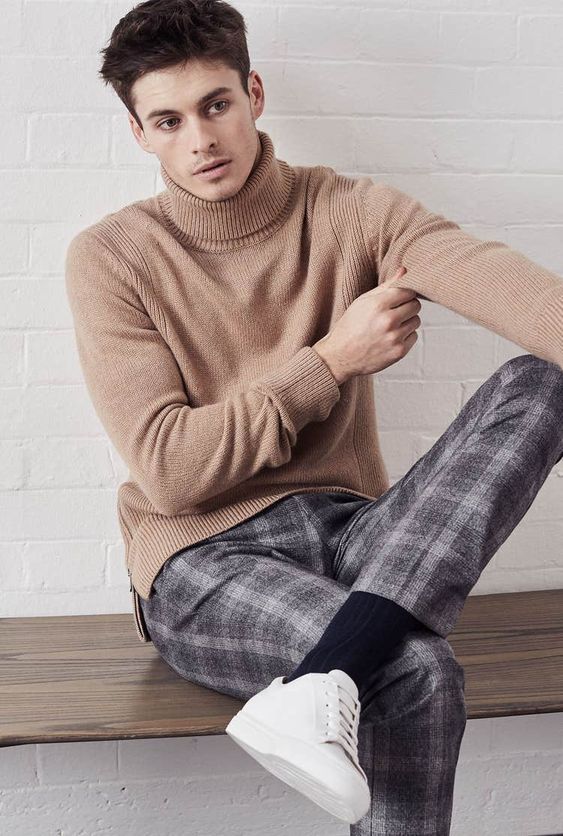 There are many ways to wear a turtleneck, and the options are endless. You can go for the classic look with a black turtleneck and jeans, or you can get creative and experiment with different colors and styles. If you're feeling daring, you can even pair a turtleneck with a suit.
One of the most popular ways to wear a turtleneck is with a blazer. This combo is perfect for both work and play. To dress it up for work, simply add a tailored blazer and pants. For a more casual look, ditch the blazer and opt for a denim jacket instead.
If you want to keep your outfit simple but stylish, try pairing a white turtleneck with black skinny jeans. This look is perfect for running errands or grabbing coffee with friends. For something a little more fun, swap out the black jeans for colored ones.
Turtlenecks are also great layering pieces. If it's chilly outside, try layering a turtleneck under a sweater or jacket. You can also layer one over a collared shirt for an unexpected pop of color.
Whether you're dressing up or dressing down, there's no wrong way to wear a turtleneck. So go ahead and experiment until you find your perfect outfit!
Outfits for the Office
Turtleneck outfits are the perfect way to stay stylish and warm in the winter. Here are some great outfit ideas for the office:
-Pair a black turtleneck with a dark wash pair of jeans and black dress shoes. Add a blazer for a more put together look.
-Wear a grey turtleneck with khaki trousers and brown loafers. Throw on a navy blazer for an extra pop of color.
-For a more casual look, rock a white turtleneck with dark denim jeans and sneakers.
No matter what your office dress code is, there's a turtleneck outfit that will work for you. Stay warm and stylish all winter long!
Outfit Ideas for Casual Dates
A casual date is the perfect opportunity to try out a new style. Turtlenecks are having a moment right now, so why not incorporate one into your outfit? To keep things looking sharp, pair your turtleneck with well-fitted trousers and shoes. Add a jacket or coat for an extra layer of warmth. If you want to go for a more relaxed look, try teaming your turtleneck with jeans and sneakers. For a stylish twist, roll up the sleeves of your turtleneck and add some bracelets or rings.
Stylish Turtleneck Outfits For Men In Winter
Turtleneck sweaters are a winter staple for many men Fashion Facts 24. They are stylish, warm, and can be dressed up or down depending on the occasion. Here are some tips on how to wear a turtleneck sweater this winter:
-Pair your turtleneck sweater with a button-down shirt and dress pants for a polished look that is perfect for the office or a night out.
-For a more casual look, pair your turtleneck with jeans or chinos and sneakers. This is a great outfit for running errands or meeting friends for coffee.
-If you want to make a statement, try wearing a brightly colored turtleneck sweater with black pants. This look is daring but fashion-forward, and sure to turn heads.