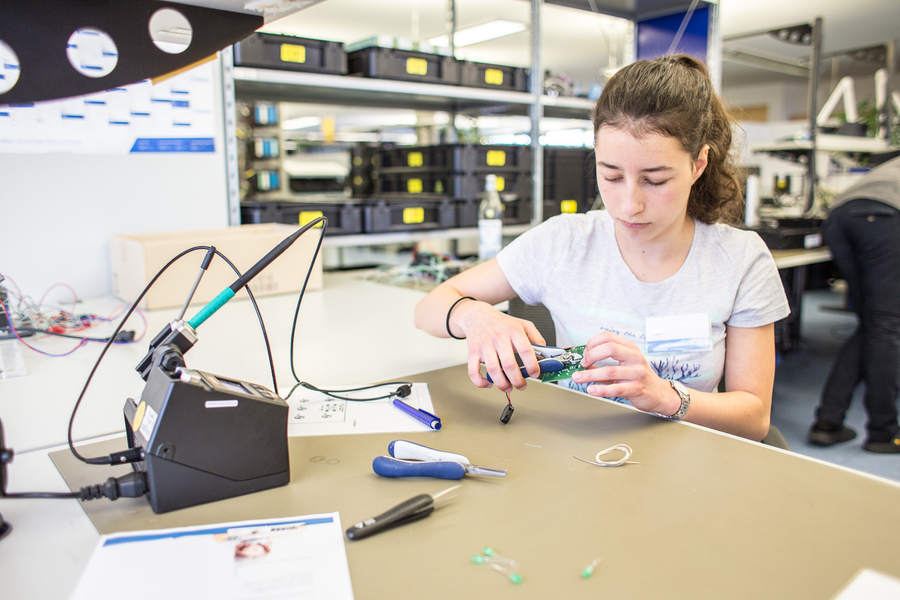 Don't let the name fool you, Electrical Wire and Cable Specialists (EWCS) are definitely Electronic Cable Specialists as well. It's really not a huge leap from electrical to electronic but there is a definite difference. At EWCS, we excel at providing exactly the right electronic cables and wiring all our customers need.
As a manufacturer of Electronic Cable, EWCS understands the conditions and environments cable and wire can be subjected to upon installation and use. As Electronic Cable Specialists, EWCS knows signal transmission must be perfect and not subject to flaws caused by the manufacturing process like nicks and cuts in the wire or cable. By producing their electronic cable domestically, EWCS has eliminated any concerns about quality control during the manufacturing process.
Made in the USA Means Something
Some manufacturers of electronic cable acquire their materials from offshore resources in China or India and then assemble them into a finished product. The quality and consistency of the wiring can be somewhat dubious at best. But with EWCS manufactured electronic cable, our customers can count on consistent quality throughout the product design and engineering phases. That's part of the reason EWCS has been around for a quarter of a century.
The Right Specifications to Get the Job Done
Many electrical engineers know the significance of receiving exactly the right equipment with exactly the right construction. It can mean the difference between success and failure on many projects. No one wants to get to the testing phase of a project and have signal transmission troubles. It can blow a budget up in no time. Wasted man-hours and materials is never in a budget. Neither is high cost for equipment and materials.
Save Money and Buy Direct from the Electronic Cable Specialists
Manufacturing a quality product is one thing; selling it at a great price is another. By selling factory direct to their customers, EWCS cuts out the middleman and saves their customers the normal 40% to 50% most distributors tack onto the products they handle. This can add up to saving significant dollars for any project.
EWCS has ALL the Features Built In
We make our Electronic Cable with Yellow a High Quality PVC Jacket or with a Low Smoke Plenum approved Jacket. We also provide Sequential Footage Marking and a rip cord to facilitate stripping. The only thing our customers have to sacrifice is the extra time it takes for their orders with other vendors to arrive. Our customers can receive their orders in two days! That's something we build into all our products.
Free Shipping is Like Icing on the Cake
Along with all the other advantages our customers receive when they place their order with EWCS, we also provide free shipping. The advantages of ordering from Electrical Wire and Cable Specialists just keep adding up. Large or small, the orders our customers place are handled by one or more of EWCS' seven service centers located across North America.
Custom Specifications Are No Problem
Many times, our customers need something built just for them and their project. EWCS has no problem customizing a design and engineering the product to meet the customer's exact specification. Most manufacturers stick to their standard product line and don't offer customized products; they send their customers to EWCS. Those vendors know EWCS listens to what their customer needs and produces it exactly as specified.
EWCS are Electronic Cable Specialists in More Ways Than One
Put it all together – High quality manufacturing, all the accessories needed to complete the job, factory direct pricing, two day delivery, free shipping, excellent customer service – and you won't be able to find a better place to do business anywhere.
For more information about 6 Awg Wire and Fire Alarm Cables Please visit : Electric Wire & Cable Specialists (EWCS).